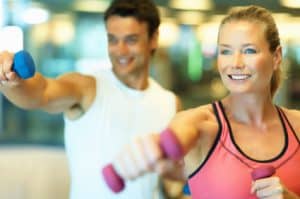 Two-On-One
Personal Training
Two-on-One Personal training is where you train with a friend, partner or a buddy. Many people find this to be a cost effective way of hiring a mobile personal trainer as you share the costs of training with another person.
With two-on-one personal training you will receive personalized attention and the sessions and workout programs are tailored to each individual. This option is perfect for those on a limited budget or couples who want to train together.
Your personal trainer will create a comprehensive program that will include;
Nutrition: the foundation of all health and fitness
Resistance training: increase lean muscle mass and metabolism
Cardiovascular exercise: optimize fat burning*
Flexibility: to prevent injury, promote recovery
Coaching: knowledge, support, motivation and accountability
Call today 1300 735 790
Save $5 by  booking online.

Memberships Types
Pre-paid
Our Casual packs are a great way to trial our services before making a ongoing commitment. If you choose the Pre-paid packages you will make the payment in full up front.
| | | |
| --- | --- | --- |
| Casual Packs | 6  sessions | 10  sessions |
| 60 min sessions | $345 pp | $575 pp |
| 45 min sessions | $300 pp | $500 pp |
Contract
We offer 3 and 6 month Membership Plans. If you choose this option we'll set up a fortnightly direct debit from your bank account or credit card for the fortnightly amount.
Membership Plans

3 Month Term
(per session rate pp )

6 Month Term
(per session rate pp)

60 min sessions

$55 pp
$50 pp
45 min sessions
$47.50 pp

$45 pp
Rates are per session. For example, if you signed up on a (60 min) 3 month membership plan training twice a week you would be paying $110 per week per person.
To purchase a 3 and 6 Month Membership Plan please download  and complete the payment form below. Please return either to your personal trainer or email to contact@fitnessinsideout.com
Note:
Membership Plans are paid fortnightly in advance via direct debit based on the per person rates above
3 Month Membership min 6 x payments and 6 Month Membership 12 x payments
Each direct debit payment attracts $2.20 admin fee and if paying via credit card an additional 2.5% Visa/ Mastercard or 4% AMEX.
For full Terms and Conditions