Mobile Personal Trainers
We come to you
Are looking for a mobile personal trainer on the Central Coast?
Are you tired of wasting your money on gym memberships? Would you prefer to get fit at home, online or in the the great outdoors?
Take a step in the right direction by hiring a Fitness Inside Out mobile personal trainer on the Central Coast.
Whether you are looking to lose weight, get fit or train for a specific event we have a Fitness Inside Out mobile personal trainer in to come to you.

A  personal trainer will keep you accountable.
How many times have you said to yourself, "I will exercise tomorrow" and never do. Sounds familiar? By hiring a mobile personal trainer from Fitness Inside Out they will keep you accountable, ensuring you commit and stick to your fitness goals.
The benefit of hiring a Fitness Inside Out personal trainer on the Central Coast is we come to you in Gosford, Terrigal, Avoca and Bateau Bay. You have the flexibility to work out where ever suits you best. You can choose to train in the comfort of your own home,  outdoors in a park, your place of work and even online.
And don't worry if you have no equipment, your  mobile personal trainer will bring any equipment you may need.
Ready to Book a Session?
Check my availabilities and book directly into my schedule!
Fully Qualified & Insured
Each personal trainer is fully insured and holds either a Cert IV, Diploma in Personal Training, or a Degree in Exercise Science.
Tailored to You
Tailored and personalized training sessions. Your personal trainer will create a program specific to your fitness levels and age.
Support & Motivation
In each session your personal trainer will be there to support and motivate you. Keeping you accountable and on track towards your goals.
Ready to Book a Session?
Check my availabilities and book directly into my schedule!
Central Coast Personal Trainers
We have personal trainers in various locations on the Central Coast. If you live outside of the areas, we service i.e.  regional areas, or overseas we can train you live online via Zoom or Facetime.
 

Amanda was very supportive and our workouts were fun and achievable, after 3 month's when my blood test was due I had lost 10kg* was now a size 14, my doctor was ecstatic with the reduction in my cholesterol*

 

My personal trainer - Kyra - is a wonderful young lady. Pushes me where I need it. Listens to me - even when I'm whining - . Great idea that they can come to you as I have an elderly mum at home and it works well. Win-win.

 

I have been training with my trainer now for 3 months. First time I've ever worked with a PT, and was very unfit. Simon has been very patient with me and has been both encouraging and supportive, and knowing when to push me as well. I've dropped 12 Kgs and feel much fitter and stronger then I have for the 20 years. Highly recommend working with Simon.

Simon is a quiet & reserved guy, doesn't say much, but observes your form when training & provides feedback. With his guidance, help, & encouragement, I have become much fitter & toned, plus 8 inches off my waist, 6 off my chest, a total of 25Kgs & I feel amazing. In addition, my overall health has improved to the point that my Dr has taken me off most of the medication I was on, as I no longer need it.
To get started, we recommend a Trial Session, this way you get to meet your trainer before you make an ongoing commitment. In your trial session your trainer will complete your health and fitness assessment, which includes medical screening, fitness testing, trial workout, and goal setting session.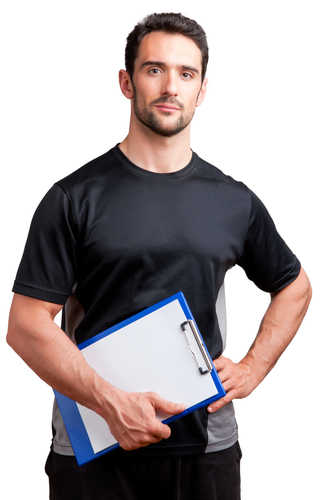 Ph: 1300-735-790
Contact us today to get a quote!