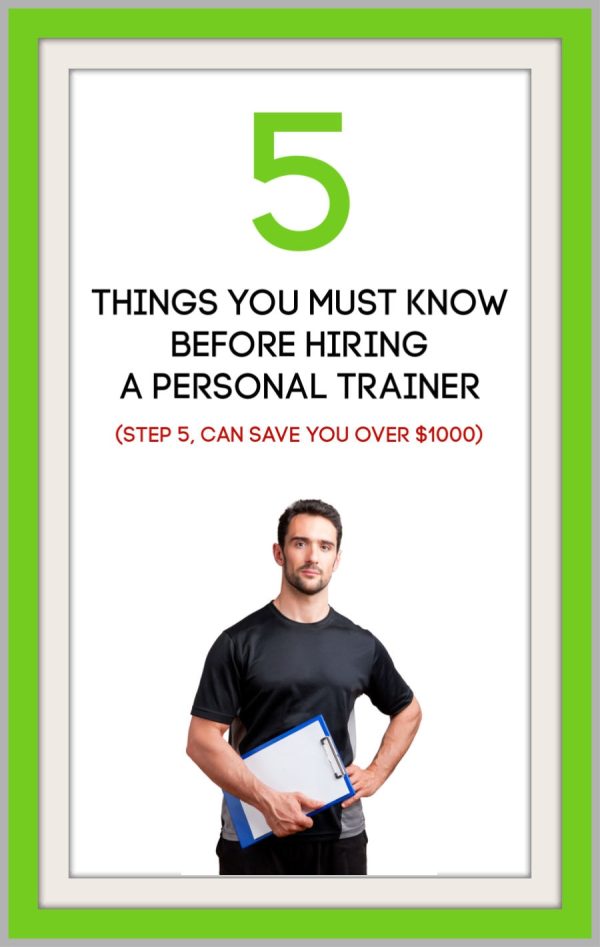 5 THINGS YOU MUST KNOW BEFORE HIRING A PERSONAL TRAINER
(Step 5, CAN SAVE YOU OVER $1000)
The decision to hire a personal trainer is a empowering one. Having a fitness professional in
your corner can be invaluable, from devising a smart workout strategy, overcoming emotional
and physical roadblocks, and getting the results you are after.
But what do you need to know before you hire a personal trainer?
Finding the right personal trainer for you can be daunting. You have finally made the decision
to take the leap and hire a personal trainer. You get into the first session or may be 3 or 4th
and you realise that you are not a good fit with your trainer.
So how do you find that perfect match? Not all personal trainers are the same, they vary on
location, experience, personality, age, price and sex. So how do you decide who to go with?
We have compiled our top 5 things you need to know before you sign up with a personal
trainer
Step 1. Proximity to your home or work place
When choosing a personal trainer location is going to be paramount, you need to make sure it
is convenient to either your home or place of work. If it's a hassle to get too you will be making
excuses why you can't go. So choose something that is convenient to you and your lifestyle.
The Gym: This is the most commonly thought of how to hire a personal trainer, but is not the
only way. Lets discuss the gym personal trainer. If you already have a gym membership and are
a regular gym goer, this may be your first consideration.
Most gyms will have a list of personal trainers who you can choose from, the rates will vary
depending on the gyms policies and trainers. Most importantly the cost of your personal trainer
will be on top of your monthly or fortnightly membership fees.
If you are wanting to bulk up and build muscle you need access to a gym that you can work
out at 4 to 5 times a week. Regular training with heavy weights are required to achieve your
goals so I would highly recommend a gym trainer for you.
The gym environment can be intimidating so if you have never been before or you feel self
conscious about your body, age, or prefer to work out in private, you may need to consider
some of our other options.
Personal Training Studio: In the past 10 years in Australia we have seen an explosion of small
personal training studios come into the market. Many of the small independent studios will
offer small circuit classes of 3 to 6 people per class and or one-on-one personal training.
There are independent studios and franchised models. The Independent studios will normally
be run by a sole trader and the personal trainer is often the owner. Being independent they will
have the ability to mix up your program and tailor the session to your needs. You may or may
not be the only one in the studio, so if you want privacy you would need to check this out with
your trainer.
Being small the facilities may be limited so if you are looking to relax in a spa or take a shower
post workout or put the kids in childcare, you may need to consider different gym. The franchised models such as F45's, Vision Personal Training and Curves have pre- designed
programs and circuit classes. The programs are designed by the head office and rolled out to
each studio gym. There minimal personalisation, so if you have specific needs and or injuries
you need to look carefully at the programs they prescribe are right for you.
Outdoor Boot camps: Training outdoors can be fun, seeing the sun rise up in the morning is
stunning or the sun setting at night. Australia is one of the few countries where you can train all
year round.
Boot camps are generally located in local parks and or beaches and you will be training in a
group of various sizes from small groups of 3 up to larger group 20 or 30 people. If you already
have a reasonable level of fitness and are looking to train outdoors this is a great social way to
exercise.
Beware there is limited (if at all) one-on-one attention in a Boot camp so if you have specific needs or are carrying an injury you may need to consider a more personalised services before migrating to a
Boot Camp.
Mobile Personal Training: Any Where Any time. Out of all the options this is the most
convenient as instead of you going to the personal trainer at the gym etc, the personal trainer
comes to you. Your home, office, apartment gym or local park.
If you are time poor or you have young children this is a great option for you. Many of our
clients have young families and the kids are either in and around the house or with them at the
park while Mum & or Dad train.
Mobile personal training or one-on-one personal training is very personalised and the trainer
will tailor programs specifically to your goals, based on age and ability.
When training outdoors, weather is always a consideration. If you are training in your home on
wet weather days can train you in your lounge room, garage or any undercover area you may
have. If you are restricted to outdoors only i.e. the park, on wet weather days you your trainer
will reschedule to another day or time.
Step 2. What is motivating you to hire a personal trainer?
Whatever your motivation be clear what you want to achieve from the personal training. This
will not only help you find the right personal trainer but this will also help your trainer design
the right program to get you results.
Our clients come to us for many reasons;
– To get fit fitter and feel better in themselves for that special event, a wedding, overseas
trip or skiing holiday
– To feel better about themselves on that summer holiday or to be able to play with the
kids or grand children.
– Many take up personal training for medical reasons, weight loss, depression, high
blood pressure, high cholesterol, recovering from an injury or strengthen muscles to
improve physical function.
– You may be training to pass the Police, Armed Forced or Emergency Services fitness
test, for that dream job.
Knowing your motivation will give you purpose and will help your personal trainer to set
realistic milestones to achieve your goal
Step 3. Your Personal Trainers Qualifications
If you need to get a haircut you don't go to the dentist or the auto mechanic. The same thing
applies with personal training, you want to know that the personal trainer you hire is qualified
in the work that they do and are going to meet your needs. Every personal trainer needs to be qualified with a minimum of Cert IV in personal training. This is the minimum qualification to become a registered and insured personal trainer in Australia.
There are also higher education levels as well Diploma in Fitness, Degree in Exercise Science
and Exercise Physiology. The latter two are studied at University as a 3 to 4 year Degree. Those
who have studied in these areas will have a higher knowledge of the physical mechanics of the
human body. If you have high medical needs and you have been referred from your doctor
you may need a highly qualified personal trainer
Step 4. What experience does your personal trainer have?
Personal Training has been a fast growing industry over the past 10 years. When researching to
find a personal trainer you will find personal trainers who are fresh out of college to those who
have 10yrs, 20yrs experience. So who should you choose?
When I am recruiting personal trainers to join our organisation the first criteria I look at is how
long have they been personal training and the type of clients they have trained. Knowing that
your personal trainer has the knowledge and have trained clients with similar goals to you is
key.
Life experience is something else to consider. Many personal trainers join the industry after
making a career change. They may be new to the industry but that does not mean they don't
have the knowledge to help you reach your goals.
For example, Tom joined our team a couple years ago. His full time job was an engineer,
however he was passionate about his running and Triathlons. Tom had been competing in
Triathlons for over 5 years. As a way to improve his fitness knowledge he studied to become a
personal trainer and loved it so much he decided would give personal training a go.
Even though Tom was fresh out of college his knowledge of fitness was extensive as he trained
for races preparing his body and building his fitness levels for each specific event. Having this
sporting background provided a well rounded knowledge of fitness, something that only a
personal trainer of 5 years plus experience could have.
My point is that experience can come from more than just studies and if you are looking for a
personal trainer for specific needs you will need to ask what they specialise in, weight loss,
women's fitness, functional training etc.
To help determine if a prospective personal trainer is right for you here are some questions to
ask;
a) What experience have you working with people like me?
b) What results have you achieved and over what time span?
c) How would you describe your style? Some personal trainers are gentle and encouraging
while others are more aggressive
d) How much do you charge? (Rates will vary from if you are training one on one, as a couple
or in a group situation. Rates will vary however on average $80 to $100 per session and add an
extra $20 for a extra person to join your session.
Step 5. What should I pay?
Don't let price be the main way to pick a personal trainer. Yes budget is always a consideration
but not considering all factors you could end up paying more.
For example: Samantha 45 yrs wanted to lose 5kgs, she began her search and found 2
personal trainers in her area. Ben charged $95 per session and Mary $80.
Ben had been training for 6 years as a personal trainer and had a successful small mobile
personal training business. Ben had testimonials about his client success stories and many of
his clients where women.
Ben offered Samantha 2 sessions per week with a at home program to do on non training days,
nutritional guidance and suggested that if she was committed and followed his program she
could achieve her goal in 12 weeks. Weekly cost $190 per week.
Mary trained in the gym locally and she had limited times however was committed to make the
training work for Samantha. Her sessions went for 45 min and she said to save time she gets
her clients to do their own warm ups on the treadmill first before she starts the session.
Mary offered 1 session per week and when possible if she had a cancellation she could do an
extra session with her. Weekly cost $80 plus $25 gym membership = $105 per week.
Samantha decided to go with Mary as her session rate was cheaper.
After 3 months Mary found she had attended 12 sessions and after 3 months she found that although feeling fitter she had only lost 1kgs. Samantha wanted to reach her 5kg goal and Mary had a spot open up and offered Samantha 2 sessions per week.
Samantha finally reached her 5kg goal after 6 months of training. In 6 months Mary had
spent:
– 6 mth Gym membership $650
– PT initial 3 months $960
– PT 2nd 3 months $1920
Total Spend $3530
If Samantha had chosen Ben who recommended to her to achieve the results in 12 weeks, her
total spend would have been $2280.
So in fact going with Ben she would have achieved her goal faster and saved over $1250!
What if $80 to $100 per session is beyond your budget?
Ask your personal trainer if they offer 2-on-1 or small group training of 3 to 4 people. This is a
cost effective way to get the personalised attention while sharing the cost with a partner,
friends or family member.
By training in a group you can reduce your rate per person to $30 to $50, now that's get value.
It is worth your while to ask friends and family to join you, not only will it be cost effective, but
is a social way to get fit.