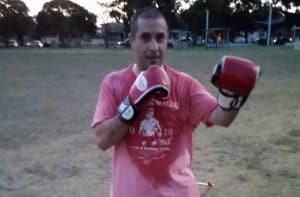 I had been trying to lose weight for a couple a years but kept putting it off due to a busy work life. Been  inactive from sport for about 4-5 years  I felt my health and fitness was deteriorating. Basically I got to the point where I felt very run down and lacked energy. I decided it was time to commit to something that was more than just the usual gym session to kick start my new lifestyle. It needed to be flexible to fit in with my long working hours. After doing some research on the net I came across Fitness Inside Out which had local trainers  in my area.
Training with Fitness Inside Out  has helped me achieve my goal in dropping my weight* as well improving my overall well being and fitness*.
I enjoy the personalized sessions and nutritional advice I receive that helps me stay focused and committed. The other benefit  of training with Fitness Inside Out is the Flexibility of scheduling  in a session that works around my working hours
Achieving my goal has improved my confidence and helped me remain focused in both my personal and working life. My advice to anyone in a similar situation is to commit yourself to a  training schedule and stick with it regardless how busy life gets as the results are worth it.