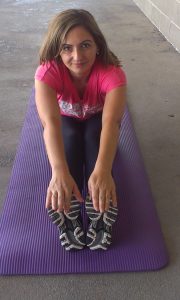 Before Rita started group training with her sister  in laws at Merrylands NSW, she was in a world of physical pain due to having seronegative arthritis (a form of rheumatoid arthritis), tendonitis and an auto – immune disease called 'Human leukocyte antigen' (HLA B27). It got to the point where Rita's pain was so intolerable that she struggled to get up in the mornings. Everyday activities such as housework became almost impossible and even driving was a struggle due to Rita's finger joints locking up. Rita had tried acupuncture and physio which only helped as a short term pain relief and was on strong anti-inflammatory medications.
Rita was beyond despair, falling into a depression and didn't know what to do to help treat her pain, until one day her sister in law 'Cheryl' suggested she try personal training to help increase her mobility and flexibility. With doubts that exercise would help because Rita lost all hope, she still gave it a go because she didn't know what else to do and was willing to TRY something. With no prior exercise history except from school and not being able to go walking due to high pain levels, Rita attended group training twice a week with the goals to increase her flexibility, mobility and general fitness. Sessions were low impact with safe exercises plus lots of stretches and then gradually increased to high intensity. On some non- training days, Rita's pain was still unbearable but with quality rest and the right nutrition, her health had started to improve.  Rita found getting up in the mornings easier, pain has decreased to at least 50% less and her body was responding better to her medications.
Today 4 months later, Rita is very happy and feels a lot better….inside and out. At her last assessment Rita scored a +17 with her sit and reach test – wow! Always being a small person, weight loss wasn't a concern for Rita but she does admit that she did put on a few kilos this year due to lack of movement from being in pain. As a bonus Rita even lost 6 kilos*!! Rita is now a more confident lady whose quality of life has improved dramatically through consistent training. Very hopeful about her future, Rita doesn't want to stop exercising as it's a great relief to her that her conditions can now be better managed. When asked what challenges she overcame with training, Rita responded with:
"The training wasn't really a challenge for me because everyday living was a challenge. I turned up to every training session because I didn't like the alternative of going back to where I started."
Rita tried something new….she turned up to each training session and gave it her all and didn't stop. If there was an exercise Rita couldn't do because it caused her pain, I would let her rest, recover and I gave her another exercise/ option instead. I asked Rita what was the best thing about working with Fitness Inside Out and she said it was meeting me – 'You helped me to find solutions around my pain… you respect me, my limitations and encouraged my strengths'.For anyone else who may be going through a similar situation or challenges as Rita, she wants you to know that there's always hope – never give up!
By Sarah McGrath
Mobile Personal Trainer