Melbourne Personal Trainer
Hi! My name is Sarah Weatherlake and I'm a personal trainer in the eastern suburbs of Melbourne. I hold a double degree in sports science and nutrition science from Deakin University. I am passionate about living an active lifestyle, experiencing the joy of movement and challenging your body, and helping others to love training and reach their fitness and health goals. I also love playing tennis and ultimate frisbee.
I have done everything from running to riding, HIIT training, strength training and circuit training, so I have a wide range of personal experience in different disciplines and have seen the benefits of each in my own life. I know what it's like to struggle with motivation and confusion around what workout style will give the best results. Thanks to my education, knowledge, and personal experience, I understand the benefits each different training style, so am able to design a program which will maximise the benefits and results for you.
I want to meet you where you're at using my experience and design workouts to suit your goals, preferences and lifestyle.
I would love to help you get active, stronger and fitter and become the healthiest version of yourself. I want to understand what you're seeking from your workouts and work with you to achieve that, whether it's gaining strength, losing weight, improving your cardiovascular fitness or all of the above!
Regardless of your fitness level, experience or ability, I am here to help! Regardless of whether you have 10 minutes or 100 minutes a day to train, I would love to work with you and help you to find a training routine that you look forward to.
Box Hill, Nunawading, Vermont, Ringwood, Templestowe, Surrey Hills, Camberwell, Doncaster, Burwood, Balwyn
If you do not see your location above, please contact me to discuss.
Top Fitness Tips From Sarah
Favourite movie or TV series
It's hard to go past Johnny English for a favourite movie - the comedic genius of Rowan Atkinson is second to none and I love a good laugh.
.
My favourite exercise 
Burpee broad jumps, because they're an extremely efficient strength and cardio activity rolled into one and you love them and hate them at the same time
My favourite piece of equipment
A good pair of dumbbells - you can do anything with them from lunges to squats, "kettlebell" swings, shoulder presses and plank rows. They provide an extra challenge to your workout beyond just using your own body weight and they're so portable!
My number one health or fitness tip
Something little is always better than nothing and every little bit counts. The quick 10 minute at home workout that happens is better than the 1 hour workout at the gym that doesn't happen, so if you can't bring yourself to do something big or approach a 'long' or 'hard' workout, just do something small. Just tell yourself "it's only 10 minutes".
More often than not, you'll find that after 10 minutes you'll be warmed up and will want to keep going and smash out a longer workout. Or you may not, and that's okay. You've still done 10 minutes, which beats sitting on the couch any day.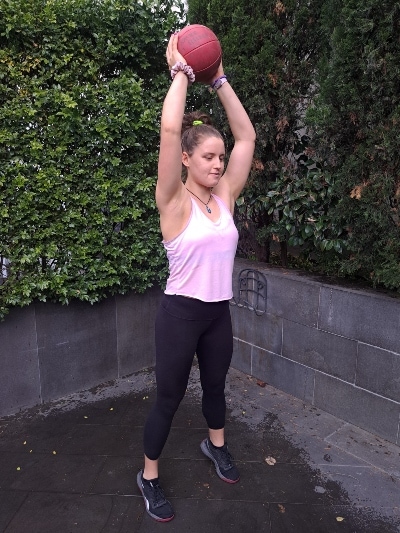 To get started, we recommend a Trial Session, this way you get to meet your trainer before you make an ongoing commitment. In your trial session your trainer will complete your health and fitness assessment, which includes medical screening, fitness testing, trial workout, and goal setting session.
Was $99, now $50
* Add $10 for an extra person.
* Introductory offer.