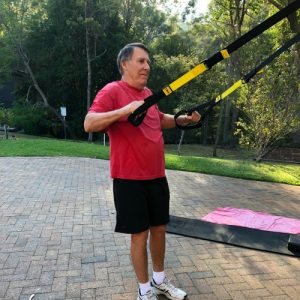 At the ripe old age of 72  I decided it was time to do something about my weight ( February 2017 ) at which time I embarked on a diet and daily walks  with the goal of reducing my weight from 98kg's to 87kgs*, which I was on the way to achieving when I  joined "Fitness Inside Out" in late March 2017.
While happy with my progress, I was committed to achieving and maintaining my weight loss as well as addressing the effects of a sedentary lifestyle due to  very intensive career path. Knowing that if I joined a gym I am a person who would find excuses from time time not to go, I realised that if the service existed, I would be better off having someone train me in my home. A Google search led me to " Fitness Inside Out " for which I am very grateful.
The services offered by "Fitness Inside Out" and the professional management of the business has far outweighed my expectations. I am now and avid reader of the " Quick Fit Tips" including the very helpful videos and the advice on nutrition.
These services complement the highly professional training work  being done on the site of my home with Trisha working towards the ultimate achievement of the  goals of weight management ( including tummy reduction ); increased flexibility; improved balance and increased body strength as well as a feeling of general wellness.
The training program has been clinically based by Trisha in discussion with my cardiologist, having regard to my age and previous clinical history including a quadruple bi-pass in 1993 and stents in 2008.
The professional way in which Trisha has developed this program is only outdone by the way she prepares for and  conducts the training sessions. Her positive approach, encouragement, clear communication (explanations of drills and their purpose ), patience and sense of humour  in no small way are responsible for my enjoyment of our sessions but also my motivation and determination to maximise achievement of the goals we have set and are achieving together.
As a result of my joining " Fitness Inside Out ",  at the age of 73  I am walking at least 6 km's a day ( often jogging a third of my trip- not bad for a man who has spent his life seated at a desk or driving rather than walking) exercising/ stretching  for a least 30 minutes a day and gradually getting on top of nutritional requirements. My weight is being maintained at or just above 86kg's, my tummy is much reduced, my flexibility, body strength and balance have improved significantly and I enjoy a feeling of wellness that I have not enjoyed for many many years. In addition to further progressing these objectives under the guidance of Trisha, I have set myself the goal of walking in the City to Surf in 2019.
I look forward to my continued association with " Fitness Inside Out ". Bob – Turramurra NSW
Trisha Hughes
Mobile Personal Trainer