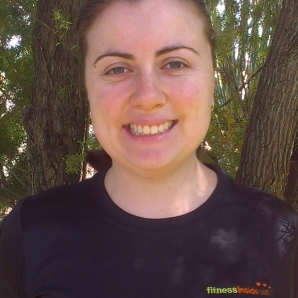 Sarah McGrath
North West, Sydney
Hi my name is Sarah McGrath and I am a mobile personal trainer with Fitness Inside Out servicing the Penrith and Blacktown areas.
I have been part of the fitness industry for a couple of years now. During that time I have worked in a few gyms as a personal trainer/fitness instructor and gained experienced as an aqua aerobics instructor as well as a seniors trainer. I prefer water and outdoor activities over indoor training as I believe fresh air and nature are healthier for the mind, body and soul therefore a strong motivator in pushing past one's limits. This is the main reason why I participate in charity fitness events such as City2Surf and Seven Bridges Walk.
My passion for fitness started when I was going through rehabilitation for an injury 7 years ago. After physiotherapy, I joined my local gym and hired a personal trainer to continue with my rehabilitation and started a long term fitness program. I had constantly seek for further information on how I can use fitness to manage my current injury and prevent further health issues down the track. In 2013 I signed up at Tafe to become a personal trainer and it has been one of the best decisions I made.
Growing up with a few health issues, I understand the struggle of exercising and eating healthy to manage and cope with my health but with perseverance, determination & the right program I saw…and felt the results!Empathy for my clients is my greatest strength and prevention is the key to good health. It is more rewarding to be able to do a skill you couldn't do before than to change one's body image.
Rehabilitation and management of health conditions, training seniors for regeneration and assisting clients to have a positive mindset are areas that I specialise in.
What Sarah's client say
"Sarah helped me to find solutions around my pain… you respect me, my limitations and encouraged my strengths" – Read more
Rita – Merrylands
After 3 months of training, Charlene lost 11.8kgs and says she feels more confident now. During her journey Charlene had received a lot of compliments from friends and family which made her feel good about herself and she wants to continue exercising to maintain what she has achieved. "I would recommend they try Fitness Inside Out and refer them onto you." – Read more
Charlene – Merrylands
When Tyrese was asked if his view of himself has changed since achieving these goals, he responded 'Yes it has. I am happy with my appearance and can participate in a lot of active school activities with my friends. I feel very confident about my future'. Wow – this is coming from a 10 year old boy! – Read more
Tyrese – Lethbridge Park
Suburbs
Arndell Park, Bidwill, Blackett, Blacktown, Colebee, Dean Park, Doonside, Eastern creek, Emerton, Glendenning, Glenwood, Baulkham Hills, Hassall Grove, Hebersham, Huntingwood, Kings Langley, Kings Park, Lalor Park, Lethbridge Park, Marayong, Marsden Park, Minchinbury, Mount Druitt, Oakhurst, Parklea, Plumpton, Prospect, Quakers Hill, Ropes Crossing, Rooty Hill, Rouse Hill, Shalvey, Stanhope Gardens, St Marys, The ponds, Toongabbie, Whalan, Cambridge Gardens, Cambridge Park, Castlereagh, Claremont Meadows, Colyton, Erskine Park, Glenmore Park, Jamisontown, Kingswood, Kingswood Park, Mulgoa, North St Marys, Oxley Park, Penrith, St Clair, St Marys, South Penrith, Wallacia , Werrington, Werrington County,Werrington Downs, Willmot, Woodcroft
Education
Cert IV Personal Training
Cert iii Fitness Instructor
First Aid & CPR
Fitness Australia Registration Level 2
Exercising after Pregnancy for Optimal Outcomes
Awards
FIO Licensee of the Month - Feb 17
Price
1 person $75 to $90 per session
2 people from $45pp to $57.50pp per session
3 people from $30pp to $45pp per session
- Initial assessments from $90
- Book Online and Save $5